INTERNATIONAL CONFERENCE ON IMPROVING ACCESS TO QUALITY MEDICINES THROUGH APPROPRIATE LEGISLATIONS AND POLICIES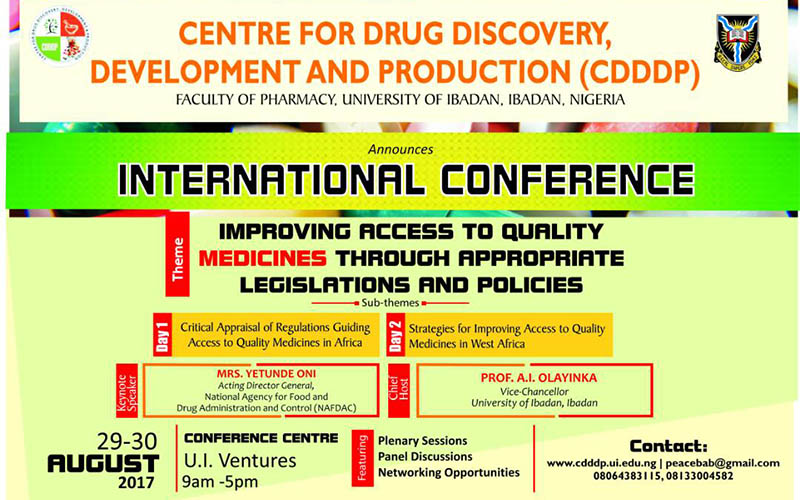 The Centre for Drug Discovery, Development and Production (CDDDP), a MacArthur Foundation funded Centre of Excellence at the Faculty of Pharmacy, University of Ibadan, in collaboration with the National Agency for Food and Drug Administration and Control (NAFDAC), African Medicines Regulatory Harmonization (AMRH) Programme an arm of New Partnership for African Development (NEPAD) and Pharmacists Council of Nigeria (PCN) is organising an International Conference themed Improving access to quality medicines through appropriate legislations and policies scheduled for 28-30 August 2017, at the Conference Centre, University of Ibadan, Ibadan
The conference will be attended by professionals in the pharmaceutical industry, community pharmacist, hospital pharmacists, healthcare providers, academia, donor agencies, federal and state law makers, pharmaceutical importers and regulatory agencies. The programme will review legislation and policies regulating access to quality medicines which include, safety of medicines in circulation, role of regulatory agencies in medicine distribution and access, National Drug Distribution Guidelines, registration of premises a critical appraisal toward quality medicine availability and African medicines harmonization policy, among others.
The registration fee for this conference is N30, 000.00 per participant. The fee covers conference materials, lunch and tea breaks. Register online using the link below.
Apart from the wealth of knowledge and experience to be acquired, the conference, will also give opportunity for networking with the various stakeholders in the healthcare delivery system across the continent. It is also believed that at the end of the conference, your establishment will be better positioned to provide safe and Quality Medicines in Nigeria.
The Centre with anticipation looks forward to your presence at the programme.